Frank White - Hall of Fame 2012
Frank White receiving a presentation from his nephew Eugene Carroll
The following is the citation read out by Frank White's nephew, Eugene Carroll, at the 2012 Annual Dinner Dance, when Frank was the inaugural inductee into the Shamrock Gaels Hall Of Fame
Frank White Citation
Frank White, a native of Castlebaldwin, is considered by many to be one of Sligo's finest ever Gaelic footballers. In 1941, when he was only a Minor, Frank played on the Knockalassa Senior team that contested the county final, which they lost by just a point to Easkey.
In the same year, Frank made his debut for Sligo, when he played at full-forward in the Connaught Minor Championship against Roscommon. He made his Connaught Senior Championship debut in Boyle in 1943 against Leitrim and in the same year played in the League and Championship Finals with Knockalassa and played in the 1944 League Final the following year with Knockalassa.
Frank joined An Garda Siochana in December 1943 and his first posting was to the Rosses in Donegal, where he met and married Kathleen Duggan, a native of Dungloe.
Frank and Kathleen had seven children and we are particularly pleased to have his sons Frank and Hugh as well as Frank's wife Anne with us here tonight as we honour Frank.
Dungloe subsequently became Frank's club and he soon came to the attention of the county team, going on to play with the Donegal Senior team in 1944,1945, and 1946, in which year he was appointed Donegal Senior captain.
At this stage, Frank answered the tug on the heartstrings and the call of his native county and lined out for Sligo in the 1947 Connaught Championship, a year in which they reached the Connaught Final, only to be beaten by Roscommon. In 1948, Frank played at midfield on the Sligo team that played Kerry in a memorable National Football League quarter-final played in the Showgrounds.
In a distinguished 10 year career with Sligo, Frank played in two subsequent Connaught Finals in 1954 and 1956 and in his three Connaught Final appearances he played in three different positions, midfield, full-back and full-forward. During this period Frank also had the honour of captaining Sligo at the official opening of Markievicz Park in 1955, when Sligo played Mayo.
A writer on GAA affairs at the time wrote the following:
"The resurgence of the Sligo Gaelic football team coincided with the arrival of the great Frank White. For several years previously, Frank played with distinction for Donegal, having been a Garda in Dungloe. But, from once he declared for his native county in 1947 until the mid 50's, Frank became a legend."
A clean fielder, he kicked long and accurately with either foot and could fill any position on the field with equal aplomb. Indeed I have heard the opinion expressed many times that Frank White was the greatest all-round Gaelic footballer ever.'
In these years, Frank was also a regular on the Connaught panel between 1948 and 1955 and in 1951 won a coveted Railway Cup medal. He also had the unique distinction of playing for another province, Ulster, in his inter-provincial career.
In his final year of football, he returned to play with Donegal in the 1957 Ulster championship, in which year he also helped his beloved Dungloe club to a Senior Football Championship and in 2003 he was honoured by the Dungloe club by being selected on their Hall of Fame team.
Truly it can be said that this man is one of Sligo's greatest footballing sons and we are immensely pleased to induct him tonight as the very first member of Shamrock Gaels' Hall of Fame.
Ladies and gentlemen, please be upstanding and salute the legendary Frank White.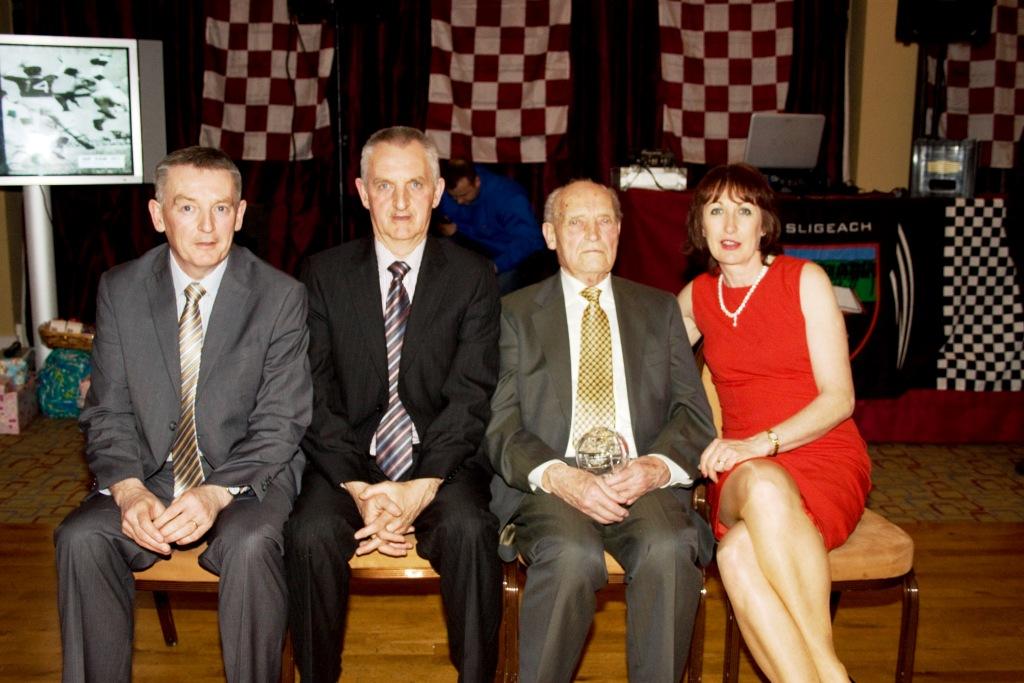 Frank White with Sons Frank and Hugh and Daughter-in-Law Ann